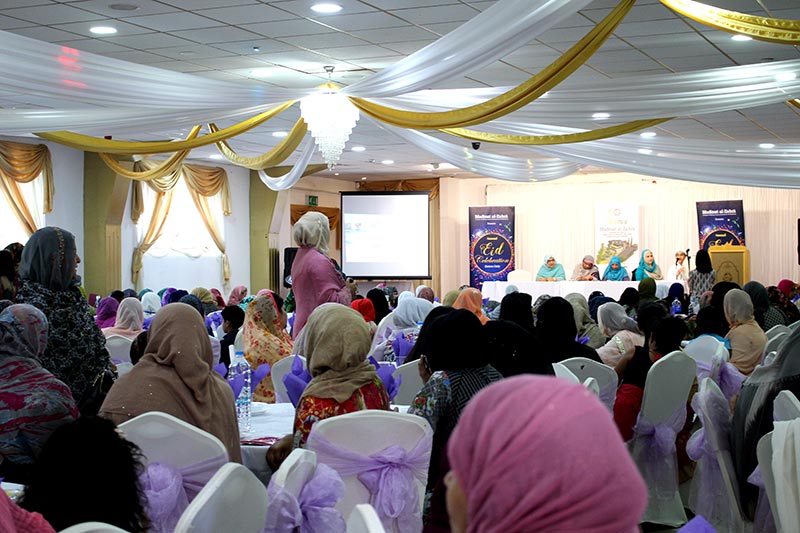 On 9th July 2017, Minhaj-ul-Qur'an International, Bradford arranged an annual Eid celebration event for sisters, under the banner of Madinat Al-Zahra which was attended by over 500 participants from Bradford, Burnley, Rochdale, Manchester, Halifax and surrounding areas.
The proceedings of the event were conducted by sisters Rubina Raja, Saima Saeedi and Ifra Kauser. The programme commenced with recitation of the Holy verses of the Qur'an which were melodiously recited by sister Nasreen (Rochdale). Thereafter sisters Rukhsana, Salma Bi, Hafsah, Shaheen Baig and Aisha Shakir took to the stage throughout the course of the proceedings to enlighten the audience with their heart-warming and uplifting nasheeds. The audience also enjoyed Arabic nasheeds by the talented Mehar Ali Shah who recited with the daff.
The participants also listened to short motivational talks on the topics of charity, generosity and spending in the way of Allah, delivered by guest speakers, sister Fowzia (Bradford), Asma Panwar (Manchester) and Maryam Hashmi (Burnley). Their talks were in light of Quranic verses and sayings of the Holy Prophet (peace be upon him) and commonly emphasised in verse 245 of Surah Baqarah of the Qur'an in which Allah states:
'Who is he that will lend to Allah a generous loan? He will, then, multiply it for him manifold. And Allah alone decreases and increases (your sustenance) and towards Him will you be returned.'
The audience were kept entertained from time to time with a ladies and kids eating competition followed by a quiz program, which saw many prizes distributed. Throughout the event, attendees also enjoyed themselves and made use of various stalls including face painting, tea and cup cakes and a tuck shop for children.
As proceedings drew to a close Ifra Kauser explained to the audience the purpose of the event which was not only in view of the Eid celebration but to raise funds for the multi-dimensional and exciting project of Madinat al-Zahra for which construction of the first phase had completed in a very short span of time. The attendees were then shown an animation of the complete project to appreciate what the project entailed.
The program ended with an appeal to raise funds which brought about a very positive response. The participants donated generously and made pledges to fund the costs of prayer mats for the ongoing refurbishment of the masjid area.
The event came to a close by a short dua by sister Asma Panwar followed by a 3 course meal for all the participants.
Report by: Ifra Kauser