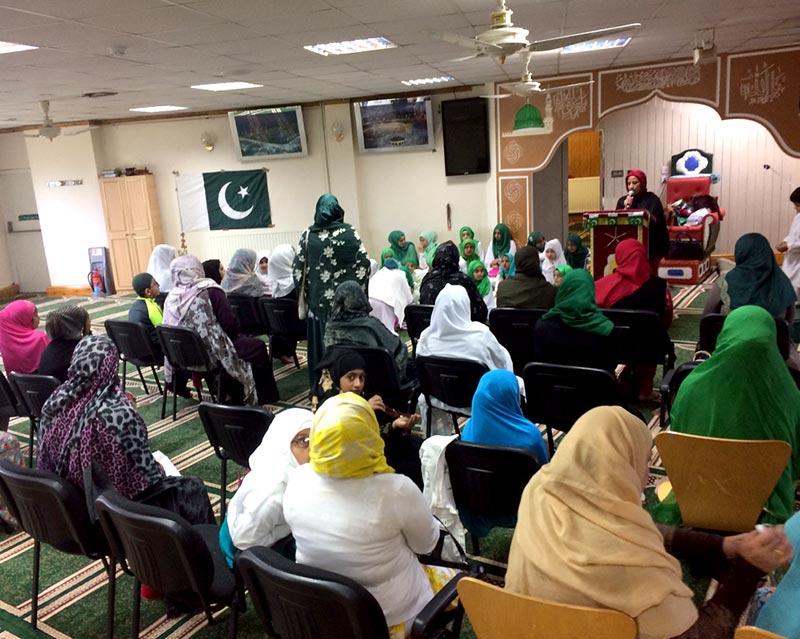 On the 14th August 2017 Pakistan Independence celebrations were held at the Minhaj ul Quran Center by Alum Rock Birmingham Women League.
This program was hosted by Sister Rabia Khanam (President of MWL Alum Rock Birmingham) who invited Sister Shazia Parveen MWL (General Secretary of Alum Rock Birmingham) for the recitation from the Holy Quran. Naat was recited by Sister Nazia followed by young group Pearls of Minhaj how sang the poems in the celebration of Pakistan Independence Day, which really livened up the celebrations.
Sister Shazia Parveen did a speech in English regarding Muhammad Ali Jinnah and how he fought for the state of Pakistan. Mohammad Ali Jinnah's dream was to have an Islamic country that provided the basic necessities for all and a purposeful life.
Rukhsana Parveen (Dawah and Tarbiyyah secretary of Midlands) explained that Muslims were not allowed to carry out the Islamic duties being in India and lived a very fearful life, which is why Muslims needed their own state and live a peaceful life. Pakistan's leaders are so corrupt that this country is falling apart. This is where Shaykh-ul-Islam Dr Muhammad Tahir-ul-Qadri has stepped up with his Pakistan Awami Tehreek to bring restoration and peace back into Pakistan. This is the kind of leader Pakistan needs who can bring love, peace and harmony back in Pakistan.
Sister Abida (Welfare Secretary of Alum Rock Birmingham) sang the Pakistan anthem in a very beautiful voice and got everyone to join in, the atmosphere was really emotional. She also spoke about Qurbani and that everyone should part in this if they are financially capable. This was all concluded with a very emotional duaa by Sister Rabia Khanam and Slaam. Independence Day cake was cut by Alum Rock League and distributed to all.