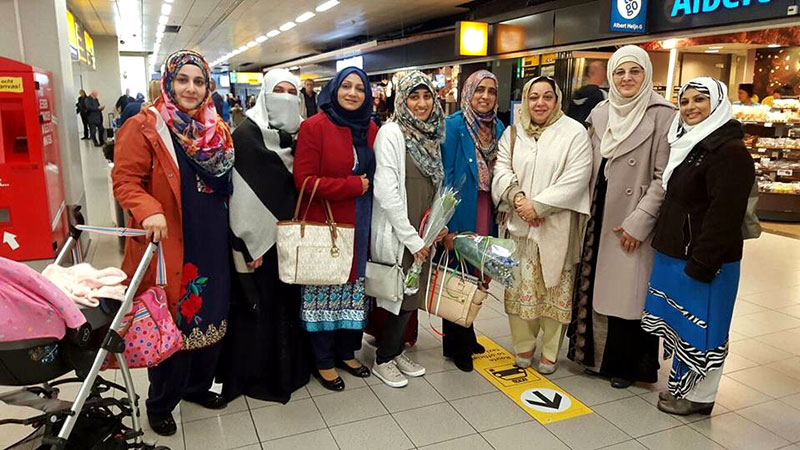 Minhaj Women and Sisters League Holland arranged a two-day organisational visit in which it invited the representatives of MWLUK. The visit included a training workshop in which members of MWL (Holland) and Minhaj Sisters (Holland) participated. The training workshop consisted of a presentation on Dawah and membership, a team building activity, through which the members gained a better understanding on what qualities are required when working as a team. The workshop ended with a talk by Sister Mussarat Hussain (MWLUK Vice President) on personal development and Husn-e-Ikhlaq (excellence of mannerism).
On the second day of the organisational visit, MWL and MS Holland arranged a beautiful Muharram event in which the events of Karbala were commemorated. Sister Mussarat Hussain delivered the Urdu speech which highlighted the significance of loving the Prophet's family and key events which took place after the martyrdom of Imam Hussain (as).
By the grace of Allah, the organisational visit was successful and both the Holland and the UK teams learnt a lot from each other. MWL Holland was thanked for the invitation extended by them for the workshop and other activities.
Feedback from the organisational visit:
"We have organised some gatherings in the past, special for life-members, but none of them were like this training. The training of Saturday was very interactive, educating, motivating and also fun. The younger audience gave a positive response about Zahra baji's presentation. There were some questions regarding membership and why joining an organisation, especially MQI, and Zahra baji elaborated this part really well. She used the Quran and Hadith to prove her points. So the most positive response that I got were about her presentation.
Also, I personally enjoyed the activity added in the training. At first it seemed like an activity to involve the audience and make them active, but after the activity I realized what the aim was. A very nice way to 'reflect' on how you perform in a team."
"Workshop was very informative and fun. The speech was very clear and understandable. Speaker had a pleasant way of speaking and was very clear in what she was saying."
"... Baji Musarat's speech was very intellectual and comprehensive. Hosting make atmosphere more warm and beautiful. Workshop given by Baji Zahra a day before was very logical and informative. Overall the whole weekend was awesome."
"Saturday workshop was very informative and instructive and Sunday's speech was again very informative and the best thing was that we all know about the incident of Hazrat Imam Hussain but the speaker spoke with the Quranci references and that's what I like very much. It made her speech very authentic."
"Aslaamulakum. The workshop session was good. We need to be reminded how important ä good leader is to guide us. We should have more workshops in the future.
Was good to have visitors from other countries. We can learn a lot from them."