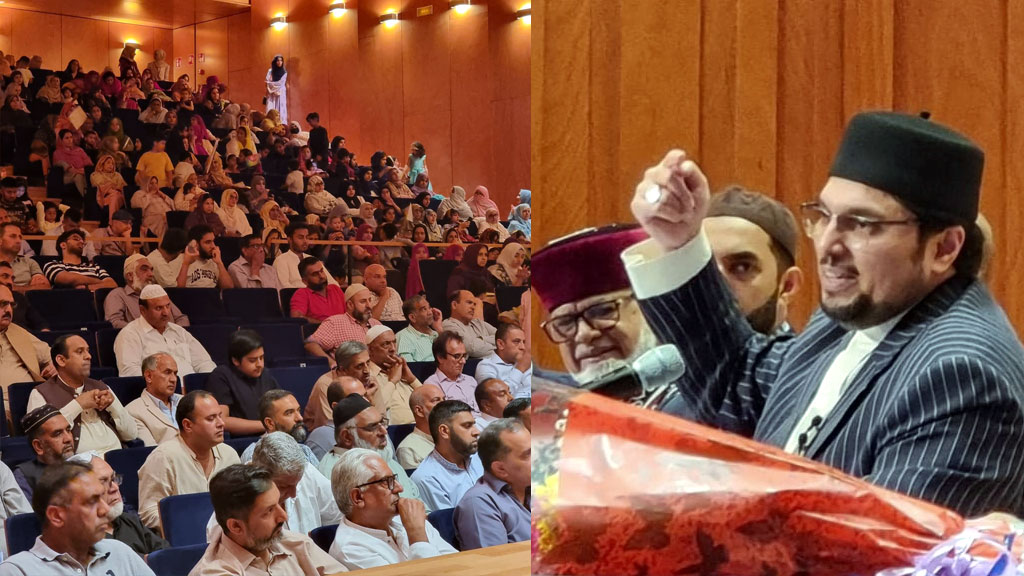 Spain: Prof. Dr. Hussain Mohi-ud-Din Qadri President Minhaj-ul-Quran International, Prisided over the Milad-ul-Nabiﷺ conference, where he delivered a Keynote address.
In his address, he conveyed the message of Milad-e-Mustafa (peace be upon him), which revolves around the principles of good manners, respect for elders, caring for the younger generation, honesty, integrity, fulfilling both the rights of Allah and the rights of fellow humans, earning a lawful livelihood, passing on the faith to our children, and striving to avoid sins. He emphasized the importance of living a life in alignment with these principles.
Dr. Qadri stressed that according to Imams and Muhadditheen (scholars of Hadith), one cannot truly experience the sweetness of faith if they do not consider themselves as slave of Prophet Muhammad (peace be upon him). Complete faith requires a deep connection with the Prophet and an understanding that we are his property.
Regarding the faith of the Companions, Dr. Qadri highlighted their profound love, respect, and unwavering devotion to the Holy Prophet. They referred to themselves as the servants of Prophet Muhammad (peace be upon him).
He asserted that if the Muslim Ummah desires to overcome its challenges and rise once again, it must imbibe the values of love and respect for the Prophet (peace be upon him) in its character and way of life. The society should be immersed in the love of the Prophet, and future generations should be taught to honor and adore him. Dr. Qadri emphasized that when the hearts are filled with love for the Prophet, his teachings will naturally be followed, and society will truly become a Mustafavi (in the way of the Prophet) society.
The Milad-e-ul-Nabi Conference also featured renowned Pakistani nasheeds (reciters of praise and poetry about the Prophet), including Muhammad Ali Jaral, Shehbaz Sami, and local naat khwans, who expressed their devotion.
The event witnessed the presence of Allama Sadiq Qureshi, Zill-e-Hasan, Owais Ejaz, Ahmed Javed, Faiz Alam Qadri, Muhammad Wasiq, Hasnat Hashmi, Khuram Shabbir, Nawaz Kayani, Saqib Tahir, Syed Zul Qarnain, Raja Mazhar, Saeed Murad, Raja Sajid, and representatives from Minhaj-ul-Quran International. Numerous leaders, prominent personalities, and members of the Pakistani community, along with the general public, actively participated in the celebration of Milad Mustafa ﷺ.